Exchange Club's Annual Scholarship

The club presented the 2023 Annual Youth Scholarships at a meeting on May 9th to:

Mya Maloney, Hanover High School
Anna Synder, Delone Catholic High School
Starlynn Decker, Hanover High School

Each Student Received a $1000 Scholarship

CONGRATULATIONS to these outstanding students and BEST WISHES in your future endeavors!​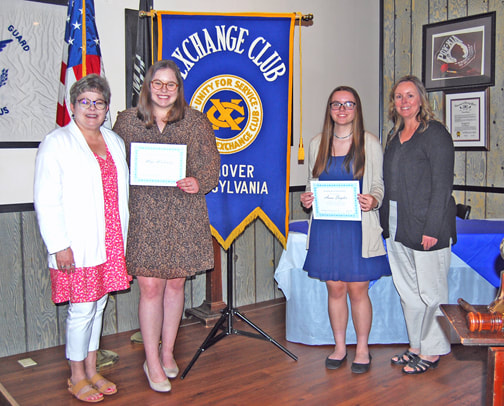 Pictured (l-r) Vicki Maloney, Mya Maloney, Anna Snyder and Suzanne Kornacki
Starlynn Decker was not at the presentation.

The Exchange Club of Hanover each year grants scholarship aid to deserving Hanover area high school seniors who plan to attend college the following year. These students are selected on the basis of financial need and the likelihood that, with financial aid, they will fulfill academic requirements for the completion of college courses which they select.
Scholarship applications will be accepted from
Hanover High School, South Western High School and Delone Catholic High School.
Students who desire to be considered for this scholarship may download the application form by clicking on the button below or checking with the Guidance Counselors at their respective schools for an application.
Applications should be returned by mail (and received no later than April 15, 2024 to
Exchange Club of Hanover Scholarship; Attn: Stacey Saltzgiver; P.O.Box 634; Hanover, PA 17331.
. Applications received after this deadline will not be considered.
.
​