​​The Exchange Club of Hanover presented the Robert J. Smith Golden Deeds Award to Toni Weaver.
The club held its 70th Annual Robert J. Smith Golden Deeds Award Presentation on November 22, 2022, at a club meeting held at SpiriTrust Lutheran® - The Village at Utz Terrace. The club recognized Toni Weaver, who has been very involved with the McSherrystown Community for most of her life. She has done volunteer work at the prior Annunciation BVM School and the present St Teresa of Calcutta Catholic School. She cooks meals for neighbors and community members who live alone or have lost a spouse, as well as her pastor & priests in residence. She has started a Prayer Shaw ministry where they crochet/knit prayer shawls and visit those who are homebound, ill or fighting a disease. She started a women's group called Women of Mercy & Joy, who do works of Mercy for the parish and the community at large. She also heads the Craft night where the participants create items to sell at the Christmas Bazaar and the Fall Fest on the Porch. The above is just a snippet of what Toni does for the community.

THANK YOU, TONI, FOR SHARING YOUR MANY TALENTS AND MAKING YOUR COMMUNITY A BETTER PLACE THROUGH YOUR ACTS OF LOVE AND KINDNESS.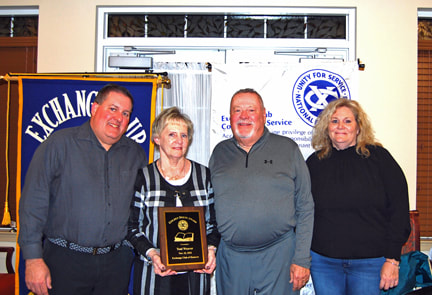 Pictured (l-r) Stephen "Wally" Weaver (son), Toni Weaver, Stepehn "Steve" Weaver, Sr., Bobbi Lawyer (daughter)


​Robert J. Smith Golden Deeds Award
The Golden Deeds Award was renamed the Robert J. Smith Golden Deeds Award in memory of long time club member Robert J. Smith.
The Exchange Club of Hanover is currently seeking nominations for the 2021 Robert J. Smith Golden Deeds Award.
Often good deeds are done behind the scenes and are unrecognized. This is your opportunity to show that special individual(s) that our community cares and appreciates their efforts.
This award is given to a person or persons who have shown self-sacrifice in making a significant contribution to the quality of life in the Hanover area. Due to the Covid -19 virus and the resulting social distancing restrictions there will not be a 69th Annual Golden Deeds Dinner Banquet. The award will be presented to the recipient(s) at an appropriate time. A permanent record of the award will be kept in the Guthrie Memorial Library, Hanover's Public Library.
​
Nominations along with a brief resume should be sent to Martha Channell, 7694 Paradise Heights, Abbottstown, PA 17301. For more information call 717-637-8790 or see the nomination request letter below for more details.