CHILD ABUSE PREVENTION 2023
April is Child Abuse Awareness Month.
Wear Blue on Mondays!!!!

​In recognition of April as Child Abuse Prevention Month, the Exchange Club of Hanover will sponsor a Pinwheel Garden on George Street in Hanover across the street from the Hanover Area YMCA. If you would like to sponsor a Pinwheel(s) for the garden download & print out the order form below, fill it in and sent a check made out to Exchange Club of Hanover Charities, Inc. and mail to P.O. Box 634, Hanover, PA 17331.
Thank you for your efforts to help prevent child abuse in the Hanover and surrounding communities.
#PreventChildAbuse #ExchangeStrong
---
The 23rd Annual Evening of Comedy & Magic Show will be held
at
The Eichelberger Performing Arts Center
on
Friday Evening April 28, 2023, at 7 PM.
Additional Details will be provided when they are available!​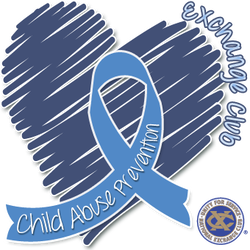 The National Exchange Club officially adopted prevention of child abuse as its National Project in 1979 at the 61st National Convention. Exchange provides a variety of public awareness materials, designed to help inform and increase awareness of child abuse and how it can be prevented. These are used in conjunction with Exchange Clubs and Exchange Club Child Abuse Prevention (CAP) Centers.
Additionally, Exchange supports and engages in a number of annual activities designed to heighten awareness of child abuse and its consequences. Through participation in Child Abuse Prevention Month each April, National Headquarters in Toledo, OH, and clubs across the country work with government agencies, local and national partners, and their communities to draw awareness about prevention of this social crisis.
Disclaimer: The National Exchange Club seeks to prevent child maltreatment by providing informational resources to the public and by coordinating a network of community-based services for parents. We are not authorized to investigate allegations of abuse or neglect or to offer legal advice. If a child is in immediate danger, please call the police. If you suspect child abuse, contact your local child protective services department.
---