​
Exchange Club Presents Youth of the Year Award
The Exchange Club of Hanover presented its 2017 Youth of the Year award to Abbey Sweeney, Delone Catholic High School, at a late May meeting of the club. Abbey received a plaque and a $1000 scholarship and a chance to win a $1500 scholarship at the Exchange District competition. To win the award, she first was selected as an Exchange Youth of the Month during the school year. She then completed a Youth of the Year application which included an essay on the topic "Inspiring a Community to Become a Better Place, " which was then judged against applications from other Youth of the Month winners.
---
Youth of the Month / Year Program
One of the most popular of Exchange sponsored youth programs, the award focuses public attention on outstanding high school students who attain scholastic excellence while demonstrating exemplary qualities of leadership and civic responsibility. Not only does the program reward young achievers for their perseverance and hard work, it also provides an incentive to other young people to strive for high levels of achievement.

Recommendations are made by teachers and/or guidance counselors and an application is provided to the selected student. The student is honored at an Exchange meeting and presented with a certificate and application for District Exchange Club scholarship. Those students wishing to compete for Youth of the Year Scholarship are required to write an essay with the topic being selected by the National Exchange Club. The Exchange Club of Hanover is currently giving a $1,000.00 scholarship to the student chosen as Youth of the Year. Students completing their 12th grade year are invited to participate.
​
On Tuesday evening, November 7th, the club recognized (L-R)Anne Grosskopf, South Western High School; Makenna Martin, Delone Catholic High School; and Helen Rosenbrien, Hanover High School as November Students of the Month. As Students of the Month, each are eligible to compete for the club's Youth of the Year Award and a $1000 Scholarship.
CONGRATULATIONS TO THESE OUTSTANDING STUDENTS!!!!!!!

---
Young Citizenship Award
While there are many awards that seek to honor outstanding high school students, Exchange's Young Citizenship Award rewards worthwhile, hard working youths at the middle school level. This program is designed to honor pre-high school students who daily demonstrate good citizenship both at school and at home. It does not necessarily seek to salute star scholastic or athletic performers. Instead, it singles out and encourages young people who, although they may not be at the head of their class, are hones, hard-working, helpful and fair. Students are selected by their teachers and are given an application to submit for the award. There are three Young Citizenship award dates, usually in December, March, and June.
​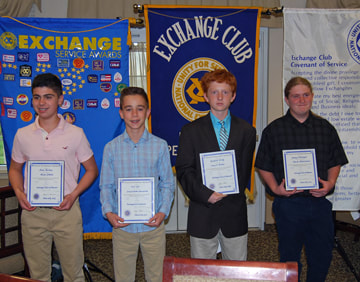 On June 6th, the club presented Young Citizenship Awards. Eric Leib, Emory H. Markle Immediate School (EHMIS), received the award for the 2rd Quarter of the School Year (he was unable to attend the earlier 2nd Quarter Awards Presentation). Noah Stefano, Delone Catholic High School; Zachary Flickinger, Hanover Middle School; and Salvatore Verity, EHMIS received awards for the 3rd Quarter of the School Year.

Congratulations to these Outstanding Young Citizens.
---