The Builder's Home & Garden Show
The Builder's Show benefits the Exchange Club of Hanover's scholarship fund, community service projects, and efforts to prevent child abuse.
The 66th Annual Builder's Home and Garden Show will be held at the former Weis Markets Building.
​
Time and Location
Thursday & Friday March 8th - 9th Hours 5 PM - 9 PM
Saturday March 10th Hours 10 M - 7 PM
Former Weis Markets Building
1047 Baltimore Street, Hanover, PA
Admission: $5 per person - Children under 16 FREE when accompanied by An AdultVendor Packages
Vendor Packages have been sent to potential vendors. If you did not receive a package and would like one, you may
download the vendor package
. You may also click here for
available booth information.
Baby Photo Contest
We will hold our Baby Photo Contest again this year to raise money for the prevention of child abuse.
Click here for more information about the
Baby Photo Contest
.
---
2017 Builder's Show Raffle Winner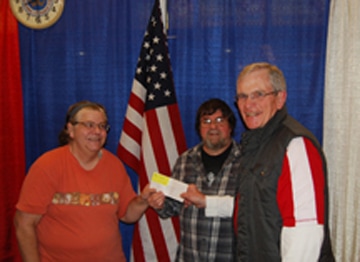 Carol Stough won the grand prize in the raffle at the 2017 65th Annual Builder's Home and Garden Show. She won a $500 gift certificate to Schmuck Lumber. Presenting the certificate to Carol and Art Brady is George Hubbard, Public Chair for the show. Congratulations to Carol! Thank you to all the businesses that donated prizes and everyone that purchased tickets.
---
2017 Baby Photo Contest Winners
​3rd Place Winner - Baby #12: Makenna Louise Stambaugh with Mother Autumn Stambaugh
​2nd Place Winner - Baby #7: Mya Beckner (not pictured); Mother Amber Beckner
​1st Place Winner - Baby #2: Jaxson Howard with Mother Cortney Albaugh

​Congratulations to these babies! Thanks to all who voted in the contest to help raise money for the Hanover Exchange Club's efforts to prevent child abuse. A big thanks to Structure Perfect who donated the Babys "R" Us gift cards.
---
The Builder's Home and Garden Show Photos